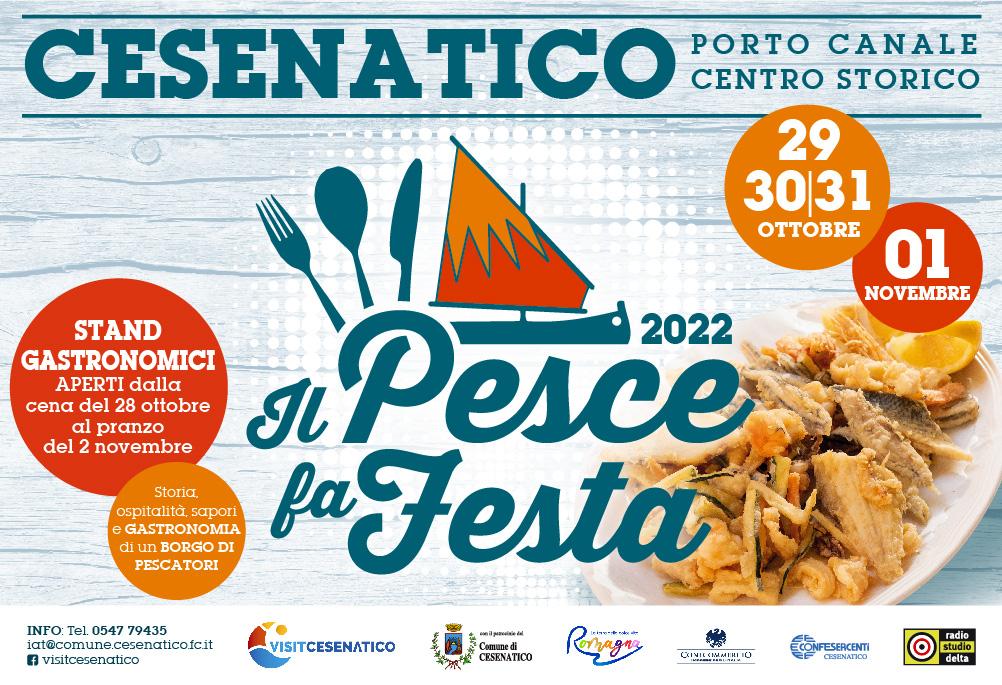 AUTUNNO A CESENATICO – IL PESCE FA FESTA
From 28 October to 1 November 2022 a traditional gastronomic appointment 'Il pesce fa festa' – the fish festival – takes place. The aim of this initiative is to promote the image of Cesenatico as a quality gourmet town and foster the professional growth of wine and food operators. It also represents a chance to highlight the specifity of Cesenatico restaurants, to promote the so-called 'poor fish', the type traditionally eaten by families along the coast, a food with high organoleptic qualities. In Cesenatico, the catering industry is an economic prime-mover all the year round with six thousand people every week-end, 70 restaurants, 1.000 operators and an annual turnover of about 15 million Euro. The large quantities of fish still available in the Adriatic, the traditional fish dishes and the professionalism of the local caterers are the keys to the industry success. Cesenatico is one of Italy's best known destinations. Diners come from all over italy, especially the major cities of Emilia-Romagna and Lombardy regions.
The program of the Fish Festival includes: a market exhibition with about 80 stalls; the special opening of the fish market; open air stalls on the Canal Port and in the town center with tasting of baked and grilled fish.
Accessibile:

Si

Prenotazione:

No

Gratuito:

No

Accessibility:

Yes

Free :

Yes

Booking :

Yes